Cage and Kids

(planned)

Playful children's variations on the "Mud Book" by John Cage and Lois Long.
—Warning: "Mud pies are to make and to look at, not to eat!"
∞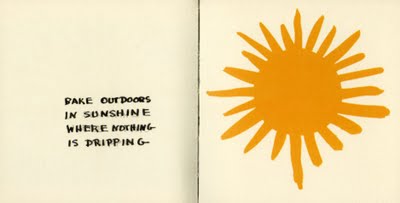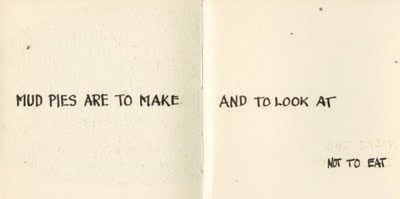 ∞
On the Mud Book: Several years ago, John Cage, the internationally celebrated composer, poet, and artist, and Lois Long, a leading American designer, sat down after dinner to make a book about the Mud Pie. The result is a splendid silk-screened limited-edition volume, available now for the first time in a popular version. Whether you make your pies neatly minimal or enjoy the more abstract expressionist process of mixing ingredients, you'll find this book invaluable for keeping a sense of humor about all things serious.
∞
∞
CCNOA center for contemporary non-objective art


John Cage / Lois Long
John Cage (1912 – 1992, USA) / Lois Long (*1918, USA)
'Mud Book'
The edition 'Mud Book' (1983) is a collaboration between American composer John Cage and textile designer/artist Lois Long. The edition consists of the 'Mud Book' and a separate note by John Russell, providing a witty insight into the story of its creation. The edition, a concertina format, was exhibited at CCNOA in 1999 for the first time as anticipated by the artists: Unfolded and installed on the wall, measuring 12.7 x 12.4 x 1.3 cm (5 x 4.9 x 0.5 inches) folded, and 12.7 x 482.6 cm (5 x 190 inches) unfolded.
The edition is an outstanding example of silkscreen printing. Its extraordinary quality was accomplished by employing up to sixty-nine (69) screens for a single page, achieving a startling luminosity of color and distinctness of line and form.
The original text and drawings for the 'Mud Book' were conceived during one of Cage's and Long's frequent dinners in the early seventies. Thanks to the mastery of Simca Print Artists, Inc., Japan, the edition was printed and published in 1983, and is today represented in major museum, library and private collections around the globe.
The 'Mud Book' is an exquisite, delightful work of art, but moreover an inspiring commemoration of a marvelous friendship.
John Cage / Lois Long Mud Book 1983 Silkscreen concertina Note by John Russell 12.7 x 12.4 x 1.3 cm (5 x 4.9 x 0.5 inches) folded, 12.7 x 482.6 cm (5 x 190 inches) unfolded Hand-printed, hand-cut and hand-bound by Simca Print Artists, Inc., Japan Numbered and signed by the artists Edition of 500, with 54 A.P., 32 H.C., 3 P.P. and one R.T.P. ¤ 500.
∞
∞
Contrary to what the editorial review says, this is not a "good-natured satire". This book is both a serious and fun guide for making mud cakes and pies. Everybody can do it! The fact that the result might not be edible does not detract from the value of this little book. The illustrations are great, and the language is suited both for children and adults. If you have ever read Walter DeMaria's words on meaningless work, you will surely appreciate this book.
—Sharon Rosner
So we can't all make music like the Velvet Underground but mud pies are an art form achievable by virtually every humanoid life form. Of course there's a certain ammount of finesse that comes only with time and practice, but Cage's meticulous instructions exist as a solid framework for beginners in this sublime craft. The illustrations are just the sort of inspiration an amateur mud pie or cake maker needs to get those creative juices flowing.
—Cortney J Angermeier
This is the BEST first cook book ever. Years ago I bought it for my daughter as her first cookbook (she is now 23) and I also just purchased it for a friend's little girl. We "love" to make mud pies and cookies… My daughter asked me "mom please save my mud cook book, someday I'll share it with my daughter" so it is still in my kitchen after all these years – and moves, it is a treasure.
—Peg Browning